So What are the Best Things
to do in Sapporo?
Yokoso to Sapporo! After living in Sapporo, Hokkaido for several years I have discovered soooo many things to do.
It is a rare city in that it has four distinct seasons, winter being the longest(about 5 months).
Every season there is a different festival going on. The snow festival in winter, the beer garden in summer, the Autumn Fest in autumn etc. The weather is perfect. It gets hot, but it's dry, unlike most parts of Japan, and in winter it gets cold, but not too cold, just cold enough to have big fluffy snow and a good down jacket is all you need.
Then, there are the many onsens(hotsprings) in and around the city, the ski resorts with the best powder in the world, the beautiful parks.
But, the best thing is the food. Sushi, Crab, Yakisoba, Nabe(hot pot), genghis khan(barbecued meat).....mmmmmm
Hokkaido seafood is the best in Japan, and maybe even the world. There are also many "made in Hokkaido" foods like soup curry(my favourite) and Zangi(fried chicken). Other foods that must not be missed when coming to Sapporo is ramen (noodle soup), especially miso flavour is what this city is famous for. I love it!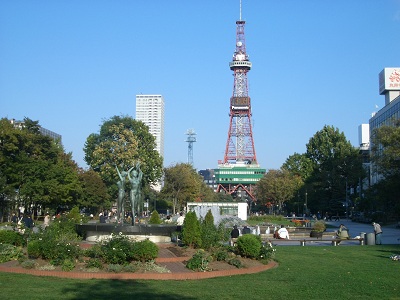 There are literally hundreds of bars and restaurants. I have friends who have lived here all their lives and still have not been to every restaurant in the city!
If you want to get away from the busy city life, no problem. The country side and mountains are only a short train or car ride away. Heck, you can even see the mountains from the centre of town!
Take a tram to Moiwa mountain and view the beautiful city at night from the top, or rent a car and head to Niseko to hike Mount Yotei (Hokkaido`s Mount Fuji) or go camping and rafting in the summer. Whatever your hobbies are, there is something for you to do in Sapporo.
So without further ado, please let me introduce, in my humble opinion, the best things to do in this beautiful city. Enjoy!
The Sapporo Blog keeps you up-to-date with all changes and additions to the best-of-sapporo-japan.com web site. Subscribe here.
Sapporo Japan is really a beautiful city to live in. The Japan weather is great for me all year round, especially the snowy winters and hot, dry summers; the best time to rent one of the many ........
Fill in this form if you want to get in touch with Best of Sapporo Japan.
This page sets out the legal issues, policies, terms and conditions that you may need to know about when you use our website.
A list of recommended sites that I have built good relationships with over the years.
There are so many places to get bar drinks in Sapporo. Here you will find some of the best ones in town.
This page is a directory of local bars and nightclubs in Sapporo Japan. If you are a bar owner list your establishment in this bar directory to attract more customers for FREE.
Pretty Japanese girls are in abundance in the red light capital, Susukino, of Hokkaido Japan. In normally conservative Japan, things can get a little, or a lot, more liberal after hours.
Sushi bars, Yakisoba, Gyoza, Nabemono. Look no further for all the best Japan food and the best places to eat them.....
There are literally hundreds of ramen ( japanese noodles ) shops in Sapporo japan. Here are the best ones........
The best Japan food, in my opinion. Soup curry comes with vegetables, rice and various toppings. It's a challenge to visit all the shops in Sapporo Japan.
Fast food is big in Japan and the Japanese like everything fast and efficient. Here you will find the best chain Japan restaurants in the city......
This page is a directory of restaurants in Sapporo Japan. If you are a restaurant owner list your establishment in this local restaurant guide to attract more customers for FREE.
The Japanese baths around Sapporo produce some of the best onsen water in the world. Here you will find the some of the best hotsprings in Japan.......
Check out Kura no yu, a favourite public bath among the locals of Sapporo Japan.
You must ski Japan. Hokkaido skiing is the best in the world. The mountains around Sapporo Japan has the lightest fluffiest powder snow you will ever experience. What are you waiting for?
Having a Japanese bath is the most unique experience you can have of traditional Japan. Find the best ones here.....
From Nakayama Toge one of the biggest Japan Mountains in Hokkaido, Mount Yotei, can be seen. Ski Japan and eat the famous Hokkaido fried potato here.........
There are some beautiful Japan beaches in Hokkaido and easily accessible from Sapporo Japan. Here are the best ones.....
There are festivals all through the year in Sapporo Japan. Here you will find everything you need to know about the best japan festivals in the city.......
There are many things to see and do in Sapporo Japan. Find out the best places to visit right here.
There are many hotels in Sapporo Japan to choose from. Are you looking for the best value for money Sapporo Hotels? Click here for some help with your choice.......